A subscription order is a recurring order which happens automatically.
To create a subscription, we recommend that you first create an SRW website account. This allows you to manage your subscription:
Once you are logged into your Account, you can create a subscription order by selecting the "subscribe" purchase option from the product page of your choice: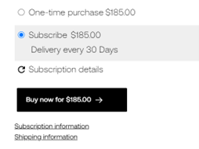 Once your subscription is created, the card that you used for your first payment will be charged every 30 days and your order will be dispatched the following working day.
Through your account you can update your payment card, pause, or cancel your subscription at any time. Please note that any amendments need to take place prior to your card being charged each month, other than this, you can amend or cancel at any time with no penalties.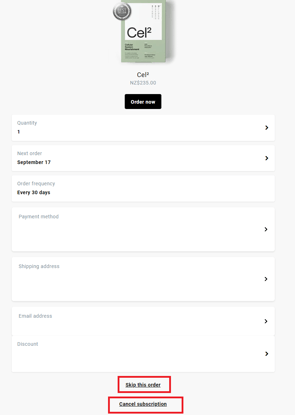 You will be sent a reminder of the upcoming payment a few days before each order is processed, and the order will be shipped after the payment is received. Please remember to update your card details before expiry. If your card expires, you will be sent an automated email reminding you to update your payment details.
If you would like to amend the frequency of your recurring payment, please contact us at hello@srw.co and we can do this on your behalf. For example, you may want to receive your order every 60 or 90 days.